it's for a great cause, and if you're a blogger too,
you might want to contact Sarah to help the cause!
Thanks!
My oldest child, Lily turned 5 yesterday..I can't believe it...sniffle sniffle.
In less emotional news...
We had a baking party, and it went really well...going to post about it this week!
As for our menu plan for last week, it was kind of scattered. We were expecting to have a little more income than we actually did so I had to improvise a lot and create many meals that weren't on the plan! You will see a lot of repeats this week to use up the produce.

One of my favorites that I did on the fly is these
Chicken Wings
....I had a ton of them in the freezer from Costco. My husband said they were the best Sweet Wings he's had! I did switch up the recipe amounts a little because I had run out of BBQ sauce, we use Bragg's Amino Acids instead of Soy Sauce which tastes saltier so I use less, and I didn't really measure the honey....BUT... all that said, this recipe is a great starting point!
Now for this weeks Menu Plan:
Here is what we have left from our produce share this week:
CHIOGGA BEETS
GREEN CABBAGE- 1/2 head
CARROTS
ESCAROLE
ROMAINE LETTUCE
FENNEL
AVOCADOS
GRAPE TOMATOES
SHALLOTS
GREEN KIWIS
Here is our Menu Plan for the Week:
Breakfasts:
Eggs & Toast
Cereal
I'm going out on a limb and going to try this- never made from last week.

Fruit Salsa
w/ homemade cinnamon chips
Dinners:

Monday:
Glazed Chicken Wings
...again! Yes, they are that good!

Tuesday:
Pork Dumplings
...never made this last week either!Subbing in Ground Turkey
Wednesday:
Friday: Date Night!! In-laws are in town...yay!!
Saturday: Birthday Party- Dinner Provided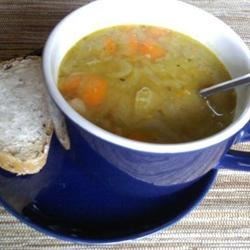 Sunday:
Split Pea Soup
- Uses Ham Bone I froze from Ham I got from Costco.
Thanks!
share on:
facebook