This past week was another great Menu Plan Week! Our favorite meal was by far the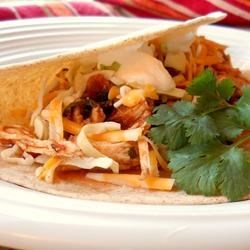 I served it with Cuban Beans and Rice, chopped fresh cilantro,
tomatoes, cheese and sour cream...
delicious!
Here is what we will be receiving from our produce share this week:
CHIOGGA BEETS
GREEN CABBAGE
CARROTS
ESCAROLE
ROMAINE LETTUCE
FENNEL
LEEKS
AVOCADOS
GRAPE TOMATOES
GREEN PEPPERS
SHALLOTS
NECTARINES
WHITE PEACHES
CANTELOPES
BANANAS
FRUIT SHARES:
WATERMELON, BLACK GRAPES AND GREEN KIWIS
Here is our Menu Plan for the Week:
Breakfasts:

Dutch Baby Pancake-
serve w/ heated up jam and syrup

Morning Glory Muffins

Quinoa Porridge w/ Cinnamo
n Apples
Eggs & Toast
Cereal

Snacks:
I'm going out on a limb and going to try this:

Fruit Salsa
w/ homemade cinnamon chips
Dinners:
Monday:

Pork Dumplings
( Sub in Ground Turkey)
Uses Cabbage
Tuesday:
Wednesday:

Thursday:

Friday:
Leftovers
Saturday:

Sunday:

Thanks!
share on:
facebook